3-DAY ADVENTURE
Have some free time and want to explore the Rule of Five Base? Taken care of. Leave your logistics behind and come experience a long weekend version of the Rule of Five program. This is for beginners or anyone that wants to brush up on the basics and gain confidence in the wild. During this 72-hour adventure we explore the foundational skills that our ancestors developed, mastered and relied on to live in the wild.
After 72 hours you will:
Leave understanding the importance of proper prior planning
Feel deeper appreciation for self-reliant skills
Know foundational skills of Ro5
Have experienced what matters in the wild
This is a Ro5 all-inclusive adventure with lodging at the Rule of Five Training center, chef-prepared meals, all training supplies, the Ro5 survival kit, and more.
The custom Rule of Five Wilderness Kit: It's not your typical wilderness survival kit. All of the Ro5 components have been time tested, are found worldwide and are valued in all cultures.
A detailed gear list is provided after registration is complete.
AREAS OF CONCENTRATION
Shelter 101:
We go over where to locate natural shelters, where to place a shelter, seasonal construction methods and materials you can utilize for construction.
Fire 101:
You will learn how to build, maintain and extinguish a fire. You will also receive and introduction in fire-by-friction and how to use a hand-drill.
Edge 101:
You get comfortable with knives, learn basic information on safe knife use, edge skills and how to break rock to make a cutting edge.
Vessel 101:
You learn how to make a vessel to store water or carry other supplies.
Cordage 101:
You learn how to identify and forage for plants that can be used to make cordage, along with the basics of making quick cordage.
*****
On our interactive short excursions you are introduced to the natural history and ecology of the area.
ALL-INCLUSIVE AMENITIES

An ultimate New Mexico camping experience
Our all-inclusive rate structure ensures visits to the Rule of Five are a memorable and unique experience combining comfortable safari-style wilderness camping, chef-prepared meals and a unique atmosphere.
Often other outdoor survival organizations do not consider contemporary comforts as an important aspect for a learning atmosphere. We strongly believe in a learning environment that supports inquiry, fun and first hand experience. Our goal is to ensure our guests experience high quality comfort paired with rustic simplicity to support an experience that allows for learning and adventure.
The all-inclusiveness Rule of Five provides is a cornerstone in the guest experience. We are pleased to offer chef-prepared meals, comfortable accommodations, experienced staff and expert instructors all steeped in the idea that the Rule of Five Base will become the center of an unforgettable experience for the length of your stay.
Literally, all you need are your clothes, a sleeping bag, personal items, a positive attitude and adventurous spirit.
All-Inclusive Means…
Your entire stay at the Rule of Five Base
All food including refreshments
All training
All learning materials and contemporary gear and equipment required for the on-property training
Rule of Five Training Center Accommodation/Amenities…
Unique Rule of Five base and trainings areas
Parking
All meals, including refreshments
All training
All learning materials and contemporary gear and equipment required for the on-property training
Ro5 survival kit
Private expedition canvas tent
Camping cot with mattress and pillow
Cotton linens
Storage spaces to house your belongings
Custom wilderness showers
Incinerator toilets and pit toilets
Shampoo, conditioner, and body wash
100% cotton bath towel set from Pendleton Woolen Mills
Selection of snacks and refreshments
Storage area for personal food
Rule of Five Base cuisine…
Daily breakfast, lunch, hors d'oeuvres and dinner are prepared with thoughtful consideration for you. Our dining experience will vary every day. You will have chef-prepared meals and you will sometimes share the memorable experiences of cooking with the vitality of fire, learning Dutch oven cooking and open flame grilling. You will be asked about dietary restrictions before you arrive so we can accommodate your preferences (meat, vegetarian, gluten free).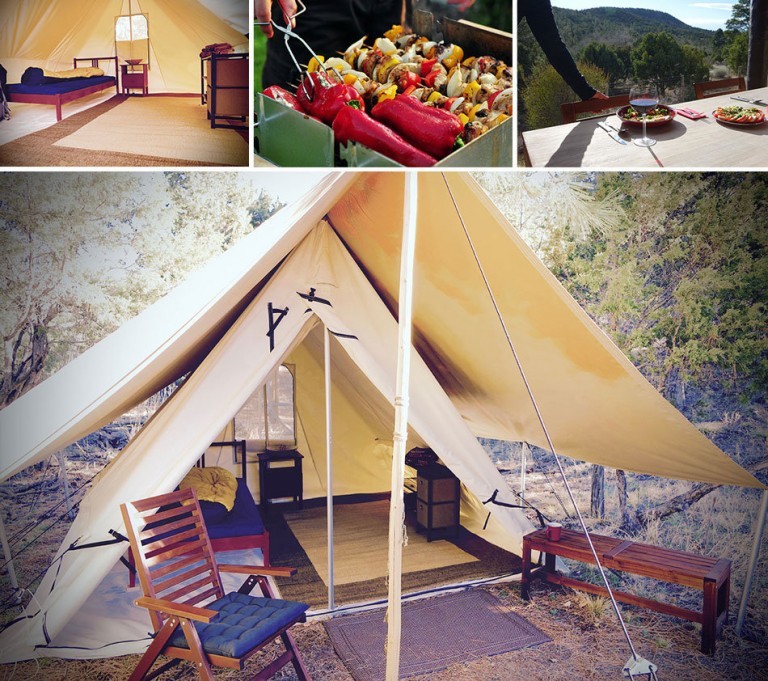 TRIP DATES
June 27-30, 2018