7-DAY RIDE-OUT
Combine your Adventure Motorcycle Training and Wilderness Survival Skills and take them to the next level. Immerse yourself in the Rule of Five base camp experience coupled with off-road training featuring our dual sport experts, Dusty Wessels and Paul Ernsdorff from West 38 Moto.
You're out for a day ride, visiting remote mountain passes and pristine wilderness settings. So far, so good…until an unexplainable mechanical failure occurs. The sun is setting. You're cold, hungry, and you know walking out is not in the cards. Bottom line, you're in for a night out in the wilderness. What do you do? How do you fix your bike? How do you stay warm, eat, and call for rescue?
In the Ro5 7-Day Ride-Out training you'll get answers to these questions and more. But mostly, you'll build your confidence, learn survival skills, and gain a clear understanding of what to do when things take an unexpected turn in the saddle. Hope for the best, prepare for the worst.
This is a unique opportunity to join with experts in their respective fields, collaborating together to offer something that is valuable, inspiring, and not found anywhere else. A partnership between Ro5 and West 38 Moto is a rarity and is the first training of this kind. We offer you the opportunity to experience the best of both worlds: Adventure Motorcycle Training and Wilderness Survival Skills to stay safe on and off the bike in the remote regions of the world.
Learn the Rule of Five for survival
Optimize security and comfort in wild places
Learn about proper planning
Access a deeper appreciation for self-reliant skills
Build confidence and skills in off-road motorcycle handling and technique
Understand how terrain dictates riding technique
Learn the West 38 Moto Five Elements for optimized motorcycle handling
Experience real-world off-road motorcycle riding scenarios
Ro5 brings the perfect blend of our ancestral living skills, along with the all important modern survival skills that have been specifically designed for travel on two wheels. In addition to presentations of "core concepts," you will create a base camp, learn survival priorities, expertly build a fire, learn to disinfect water, and much more. Your knowledge is also tested with a simulated wilderness survival challenge, designed for the "what if" situation.
The West 38 Moto curriculum has been designed for the "path less traveled." In addition, presentations on the Five Elements for optimal riding will be reviewed. This will include appropriate transfer of weight, the "triple threat," various riding techniques for differing terrain, body positioning, and the psychological component of commitment. West 38 Moto combines real world training with practical advice to develop the skills needed to ride these "big-bikes" with confidence, knowledge, and skill.
After four days of site training we venture out on a two-day ride incorporating a survival overnight challenge. This is a Ro5 and West 38 Moto all-inclusive adventure with lodging, chef catered meals, training supplies, the custom Ro5 survival kit, and more. Guests will either provide their own off-road ride or Ro5 can help arrange for hire.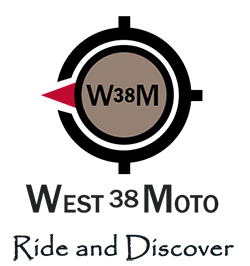 ALL-INCLUSIVE AMENITIES

Ride-Out
All-inclusive Amenities
An ultimate New Mexico camping experience
Our all-inclusive rate structure ensures that visits to the Rule of Five (Ro5) base are a memorable and unique experience with comfortable, safari-style wilderness camping, chef-prepared meals, and a unique atmosphere.
The Rule of Five base is located in Northern New Mexico, just off the NM Backcountry Discovery Route (NMBDR) sitting at 8200 feet elevation in the Tusas Mountains. The Ro5 base is a perfect training ground with access to a diverse landscape, wide-open space, solar power, and modern camp conveniences.
We believe strongly in a learning environment that supports inquiry, fun, and firsthand experience. Our goal is to ensure that our guests experience high-quality comfort paired with rustic simplicity to support an experience that allows for learning and adventure.
The all-inclusiveness the Rule of Five provides is a cornerstone of the guest experience. We are pleased to offer chef-prepared meals, comfortable accommodations, experienced staff, and expert instructors: all toward the aim that the Rule of Five base will become the center of an unforgettable experience for the length of your stay.
Literally, all you need are your clothes, a sleeping bag, personal items, a positive attitude, an adventurous spirit, and, of course, your motorcycle with associated protective gear. A full gear list will be provided upon registration.
Rule of Five Base All-Inclusive amenities…
Unique Rule of Five base and trainings areas
Parking
All meals, including refreshments
All training
All learning materials and contemporary gear and equipment required for the on-property training
Ro5 survival kit
Private expedition canvas tent
Camping cot with mattress and pillow
Cotton linens
Storage spaces to house your belongings
Custom wilderness showers
Incinerator and pit toilets
Shampoo, conditioner, and body wash
100% cotton bath towel set from Pendleton Woolen Mills
Selection of snacks and refreshments
Storage area for personal food
Rule of Five Base cuisine…
Daily breakfast, lunch, hors d'oeuvres, and dinner are prepared with thoughtful consideration for you. Our dining experience will vary every day. You will have chef-prepared meals and you will sometimes share the memorable experiences of cooking over a fire, learning Dutch oven cooking, and open flame grilling. You will be asked about dietary restrictions before you arrive so that we can accommodate your preferences (e.g. meat, vegetarian, gluten free).